CASE STUDY
The World Health Organisation estimates that there are about 36 million people in the world who are blind, and a further 216 million who live with moderate to severe visual impairments. Did you know, every 7 minutes, someone in American will become blind or visually impaired and that it is estimated that there are 7 million visually impaired Americans?
Making sure that everyone is included is something Qualitem (a Connected subsidiary) is proud to be delivering. Qualitem is committed to actively helping everyone, welcoming diverse people, experiences and perspectives and to foster inclusivity. Practicing inclusivity creates opportunities for greater innovation, sustainability, responsive and person-centered technology solutions.
Introduction
In 2019, the Wisconsin Council of the Blind & Visually Impaired (WCBlind.org) downloaded a trial of Live Publish to see if it could assist low vision users at the Council with their web content management. Because Live Publish is an add-in for Word, Council users can curate their content in an inclusive and accessible MS Word and publish it to WordPress through a few clicks on the Live Publish panel.
HTML editing for low vision users
Accessibility is an important topic in web design, but for web editing this is a challenge.
As you can image, HTML is not the easiest editing experience for low vision users and anything to assist in the maintenance of their web content is a huge advantage. Most content management systems support hosting accessible content, however the challenge of supporting low vision users editing content on their platforms is a very different undertaking.
WCBlind.org leverages the power of Word
Live Publish loads in MS Word and Word online and supports publishing Word content to WordPress.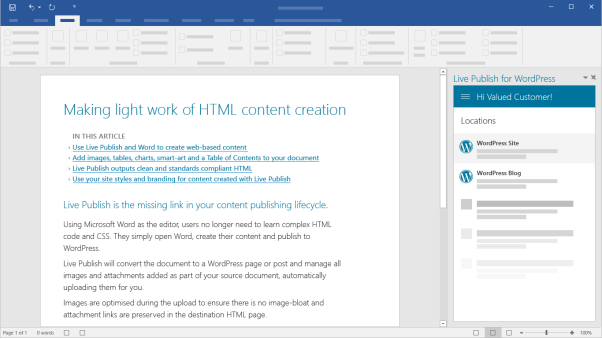 Mitch Brey, Operations Manager at WCBlind.org says
"Users at WCBlind.org create their WordPress blog posts using MS Word and use Live Publish to publish these blog posts to our WordPress web site. HTML editing tools are still used to resolve or fix more complex coding issues."
Qualitem is putting the power of blog post publishing into the hands of every user at WCBlind.org; they are empowered to achieve this using a few simple clicks. Live Publish is for all levels of publishing expertise and supports some of the largest content publishing platform like WordPress and SharePoint Online.
Kathleen Callen, Program Specialist says "Live Publish is a great help in publishing our posts to WordPress. It is easy to use and saves a great deal of time and effort. As someone who is visually impaired, I find it especially helpful as I can do most if not all the formatting in Word which is much easier and efficient for me use."
For WCBlind.org users, Live Publish:
Automatically optimises image sizes and uploads images
Automatically uploads related attachments and files
Makes publishing weekly online articles easy and saves staff time
Conclusion
Qualitem is humbled by the fact that WCBlind.org is a user of the Live Publish suite. We are proud to be helping low vision users continue to post their blog content using fantastic tools like MS Word.
For more information relating to Live Publish, refer to https://www.qualitem.com/livepublish/